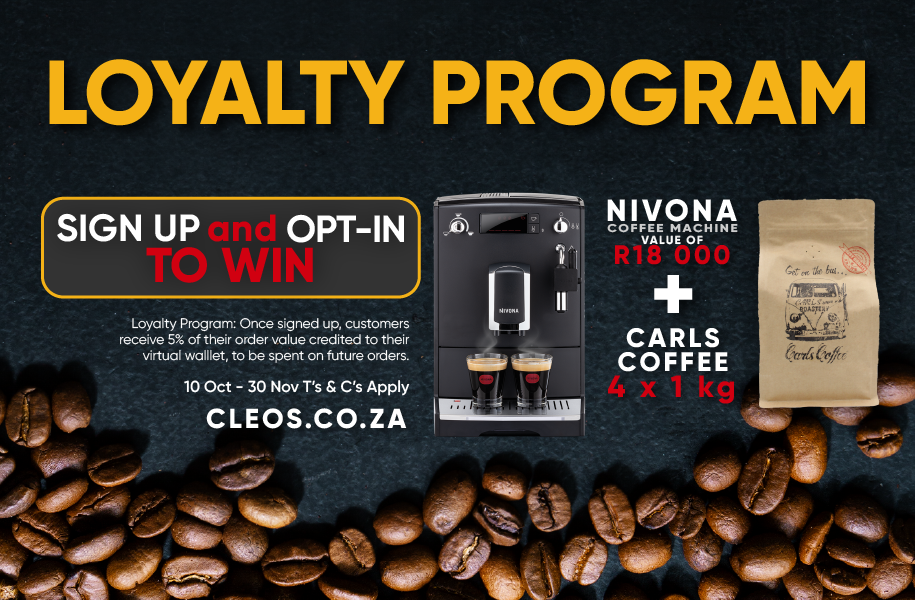 INTRODUCING OUR CLEO'S KITCHEN LOYALTY PROGRAM – PERK UP YOUR MORNINGS WITH CARLS COFFEE
Create your account here and enter our brand-new loyalty program, and not only will you unlock a world of benefits but also stand a chance to win a NIVONA coffee machine valued at a staggering R18 000!
Carls Coffee has sweetened the deal by adding 4 kgs of Carls Coffee beans, meticulously sourced and roasted to perfection.
Competition ends 30 November 2023.
Terms and Conditions apply.
Loyalty points are not earned on promotions and coupons.
Terms and Conditions:
Cleo's Kitchen Loyalty Program Competition
The Cleo's Kitchen Loyalty Program and Carls Coffee competition is open to citizens and residents in Pretoria, Johannesburg and surrounding areas, Gauteng, South Africa, except for employees of the promoter and their immediate families, the promoter's advertising, and promotion agencies, associated companies, and outlet owners and staff. Entries from outside the areas mentioned above will not be valid.
These rules may be amended without notification during the Competition and will only be interpreted by Cleo's Kitchen.
The Competition begins on 10 October 2023, and entries close on 30 November 2023.
To qualify for entry, simply register and subscribe to Cleo's Kitchen Loyalty Program, and you will
get an automatic entry into the competition.
Automatic entry into the competition will only be applicable to the subscription to the Cleo's Kitchen
Loyalty program and not subscription to the Cleo's Kitchen newsletter.
Once subscribe to the loyalty program, points will not be earned on any promotions or coupons.
The competition is limited to 1 entry per person.
The Cleo's Kitchen team will choose and announce a winner by the 1st of December 2023.
Cleo's Kitchen will not accept responsibility for entries lost, delayed, corrupted, or due to computer
error in transit.
Persons under the age of 18 years will not be allowed to enter this competition. Proof of identity and
age may be required.
No entry fee or purchase is necessary to enter the Loyalty Program competition.
Use of a false name, email address, or pseudonym will result in disqualification.
If a winner cannot be contacted within reasonable means and efforts within 24 hours after the date
of notification, the promoter reserves the right to withdraw the said winner and select another
winner.
Should a winner fail to respond in the stipulated time frame, they will be notified, via email of their
ineligibility to receive a prize. Cleo's Kitchen will not enter further discussions.
The judges' decision is final and will not enter further discussions.
The winner will receive a NIVONA Coffee Machine as well as 4 x 1 kg Carls Coffee beans.
Prizes cannot be transferred or exchanged for cash.
All participants and winners indemnify Cleo's Kitchen and Carls Coffee, its associated companies
(directors, officers, and employees), and agents, against any / all claims for any loss or damages,
whether direct, indirect, consequential, or otherwise, arising from any cause whatsoever from their
participation in any way howsoever in this competition.
Entry into the competition will be deemed as acceptance of these terms and conditions.
Cleo's Kitchen hereby undertakes to comply with the provisions of POPIA in their dealings with
personal information and acknowledges that they are familiar with and undertake to comply with the
provisions of POPIA.